Got Questions about Parkinson's?
Join us on the 1st Thursday of each month from 4:45 pm to 5:45 pm for a live Q & A session with Dr. Timothy Leichliter, Director of AHN's Cahouet Center for Comprehensive Parkinson's Care.
*For October 6th, the time is 4:15 pm to 5:15 pm*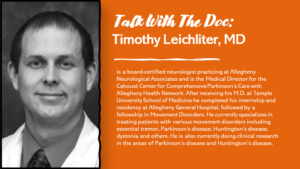 If you have not registered for Talk With The Doc previously, click on the button below to do so now.  You will receive a confirmation email with a link to the programs.
(If you have registered for any previous Talk With The Doc programs you do not have to register again.  You will automatically receive a reminder email with the program link the day before the program.)