Got Questions about Parkinson's?
Join us on the 1st Thursday of each month from 4:45 pm to 5:45 pm for a live Q & A session with Dr. Timothy Leichliter, Director of AHN's Cahouet Center for Comprehensive Parkinson's Care.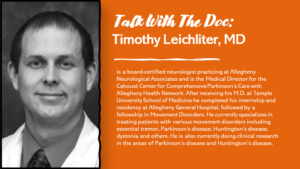 If you have not registered for Talk With The Doc previously, click on the button below to do so now.  You will receive a confirmation email with a link to the programs.
(If you have registered for any previous Talk With The Doc programs you do not have to register again.  You will automatically receive a reminder email with the program link the day before the program.)