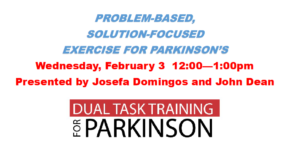 How often do you struggle with moving around in bed, getting up from a couch, passing through doors or other daily challenges?
What if it were possible to have an exercise program developed to help you address your specific issues in a fun but challenging way? 
WELL, NOW YOU CAN!
Join us for a conversation about this possibility, provided as part of a grant-funded initiative through PFWPA with Parkinson's specialists Josefa Domingos and John Dean.  Together they are building a series of videos that include a video interview identifying the specific daily problems identified by volunteers with Parkinson's along with a custom exercise video created specifically to address that problem.
The session will include a demonstration of the initial work, produced in collaboration with local volunteers living with Parkinson's. There will also be details about how you can participate in this unique project.