Instructor: Jen Stratakis
In this yoga class, you can expect to work on flexibility and balance, as well as breath awareness and relaxation. No prior yoga experience needed!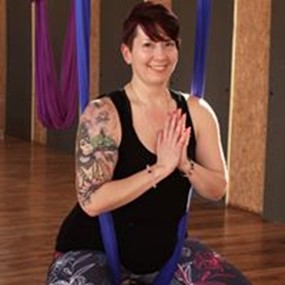 CLICK TO REGISTER FOR THIS CLASS
Jen Stratakis, E-RYT 500 is a classically trained yoga teacher whose personal mission is to bring meaningful yoga to as many people as possible. She has completed trainings in Transcend Aerial Yoga, Principle-Based Partner Yoga®, Yin Yoga, and LoveYourBrain® (yoga for TBI survivors.) Her educational background includes a B.S. from Kent State and a Master's from CMU.
Jen has studied and practiced yoga for over 15 years. She is grateful to her yogic influences – Sandra Anderson, Dharma Mittra, David Swenson, Seane Corn, Sarah Powers, and Judith Hanson Lasater – for their wisdom and guidance. When she's not practicing or teaching yoga or other mind/body topics, Jen enjoys distance cycling, hiking, paddle boarding and supporting local humane causes.